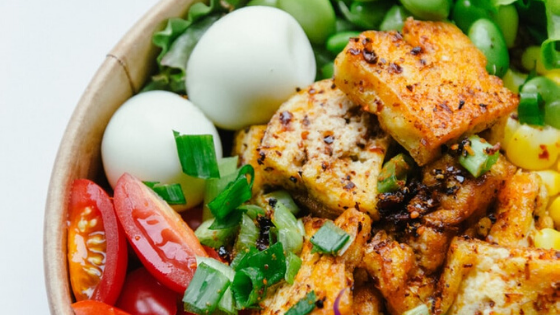 If you're a vegetarian or vegan, you've probably found a lot of creative things to do with tofu, but this protein-packed food is still new to many people. Since we know some of the residents of our Vallejo, CA apartments like to get inventive in the kitchen, we've found a few interesting things people can do with tofu.
Eat It for Dessert
Most people automatically think of savory dishes and dinner entrees when tofu comes into the conversation, but these rosewater parfaits bring out the sweeter side of silken tofu in a dessert that would put ice cream to shame. This is a great option if you're going to be entertaining guests, and the parfaits can easily be made vegan or gluten-free just by swapping out a few ingredients.
Swap Out Eggs for a Tofu Scramble
One of the reasons eggs are such popular breakfast food is because they contain the kind of protein that'll power you through the next few hours until lunchtime comes. Guess what? Tofu is the non-egg equivalent of body-powering food products that stave off hunger while delivering ample energy. Substitute tofu where eggs would otherwise exist in a breakfast scramble and put a different flavor on your first meal of the day.
Stuff It Inside Some Veggies
Up the nutritional elements of your favorite produce by stuffing peppers, zucchini, eggplants and other veggies with tofu. You'll have a well-rounded meal that checks the boxes of the food pyramid without dirtying a dozen dishes.
Make Gluten-Free Meatballs
Gluten-free breadcrumbs don't always do the job very well where meatball-making is concerned. However, if you leave the bread out and substitute tofu instead, the bean curd will bind with the egg and lighten up the meat mixture. The end result will be tasty meatballs that can't wait to be dipped in marinara sauce or spread into a bun for a great hoagie sandwich.
Craft a Fruity Pebbles Cheesecake
Sure, this is dessert, but Fruity Pebbles Cheesecake gets its own category solely as a result of its brilliant, bright nature.
Are you searching for an apartment that features the kind of kitchen where interesting food inspirations are born? Upgraded kitchens are just one of the reasons our residents love living at Bay Village. Check out our other awesome amenities!