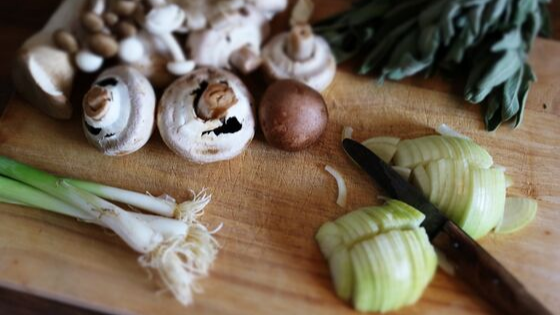 Are you expecting vegan guests at your next get-together? No worries! While the vegan diet may seem difficult to cater to, these two recipes are easy to make. Plus, they're so delicious, you might find your non-vegan friends chowing on these tasty treats, as well.
Marinated Mushrooms
Ingredients:
12 ounces cremini mushrooms
2 tablespoons white wine vinegar
6 tablespoons extra virgin olive oil
2 tablespoons fresh oregano, chopped
2 tablespoons fresh lemon juice
Salt and pepper
Directions:
Clean the mushrooms, trim the stems and place the mushrooms into a bowl.
In another bowl, whisk together the lemon juice and vinegar.
Sprinkle in the oregano.
Slowly whisk in the olive oil and mix until emulsified.
Whisk in the salt and pepper.
Pour this marinade over the mushrooms and refrigerate overnight in an airtight container.
Serve at room temperature.
Oven-baked Zucchini Chips
Ingredients:
1 large zucchini, washed and cut into 1/4-inch discs
1 cup all-purpose flour
1 cup breadcrumbs
1/2 cup vegan Parmesan cheese
1/2 teaspoon garlic powder
1 1/2 teaspoons Italian seasoning
1 cup unsweetened almond milk
Olive oil spray
Salt and pepper
Directions:
Preheat the oven to 400 F.
Line a baking sheet with parchment paper.
Place zucchini slices on a paper towel, sprinkle them with salt and let the slices sit for about 15 minutes. This will draw out moisture and make crispier chips.
In a bowl, whisk together the breadcrumbs, Parmesan, garlic powder and Italian seasoning until combined.
Pour flour into a small bowl and the almond milk into another small bowl.
Pat off any excess water from the zucchini discs, then dip each into the flour.
Next, dip the discs into the almond milk and then press them into the breadcrumbs until both sides are coated.
Place on the baking sheet. Repeat with all discs.
Spray the tops of the zucchini with olive oil. Flip them over to spray the other side.
Bake for 15 minutes.
Flip the zucchini and bake for 10 minutes or until golden brown.
Serve with a side of marinara sauce.
Are you searching for a great apartment for entertaining? Then, please come check out our apartments in Vallejo. Our community boasts beautiful views of the bay, a swimming pool, and a BBQ and picnic area.