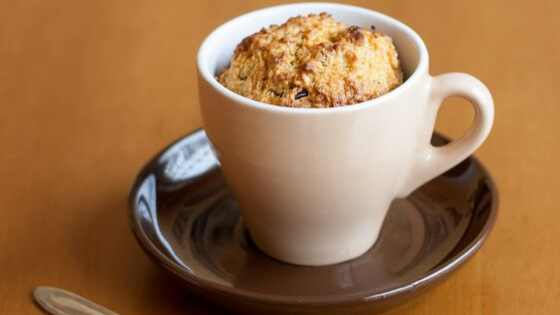 Starting your day off with breakfast is important for your energy levels. If your mornings tend to be rushed, you don't have to skip this meal or grab something while running out the door. These quick and easy microwave recipes can provide you with a convenient breakfast to enjoy before leaving your apartment for the day.
French Toast
When you don't have time to pull out a skillet or pan, you can still have this delicious breakfast. To make it, mix milk, cinnamon, an egg, salt and syrup in a microwaveable mug. Cut the crusts off of the bread you're using, then break the bread into small chunks. Put the bread pieces in the mug, and push them down into the egg mix. The mix should cover all the pieces. Stir chocolate chips into the bread and egg mix, then sprinkle cinnamon or powdered sugar on top. Microwave your French toast for 30 seconds at a time until you reach two minutes total. Let it cool for a couple of minutes before eating it.
Cheese Omelet
Eggs are a great source of energy, thanks to the protein they contain. To make a microwave omelet, start by coating the inside of a large microwaveable mug with cooking spray. Using a larger mug gives the eggs room to expand. Crack two eggs in the mug, add milk and lightly beat the egg and milk mix. Add cheese, peppers, pepper, and salt, then stir the mix with a fork. Microwave your omelet for 30 seconds at a time until the eggs are fully cooked through.
Apple Banana Oatmeal
Oatmeal is also a good energy source for the start of your day. To make it fast, add quick-cooking oats, an egg, grounded flax seed and milk to a microwaveable mug. Stir this mix with a fork, then add chopped apple pieces, mashed banana, honey, and cinnamon. Stir again, then cook for two or three minutes. Use a fork to stir your oatmeal, then add milk or yogurt to it if desired.
Our apartments in Vallejo, California, include a microwave, so you can try out these breakfast recipes. Please contact us for additional information on our apartment floor plans and amenities.