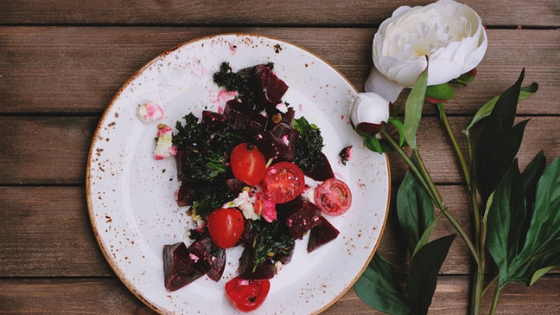 When August rolls around, we see bright, vivid fruits and veggies come into our Vallejo, CA apartment community. If you're feeling inspired to put this month's fresh produce to use in some tasty salads, we've come up with some great ideas for you!
1. Avocado Corn Salad
Crispy corn kernels star in this fresh, summery dish. Grilled corn not only adds a fun texture but the brilliant yellow pieces add to the overall aesthetic appeal of this particular dish. Corn offers your body a healthy dose of fiber that puts good gut bacteria in your belly, which helps the digestion process and facilitates regularity. It also contains iron, potassium, protein and B vitamins.
2. Chilled Beet Salad
Beets are powerful root vegetables that contain lots of valuable vitamins and minerals, including potassium, vitamin B6, folate, vitamin B6 and manganese, just to name a few. These purple plants not only enhance the visual appeal of salad plates, but they also pack a powerful dose of benefits. Beets have been known to help keep blood pressure in check, fight inflammation and support healthy brain function. Get your daily dose of beets with this Chilled Beet Salad.
3. Pear Salad with Dried Cherries and Candied Walnuts
Pears are rich in antioxidants, flavonoids, and fiber, which means they're an excellent addition to this season's must-eat produce. When paired with the crispy crunch of sweet candied walnuts, pears take on a whole new life in this lunch-perfect entree salad. There are just enough ingredients layered upon each other to give you a sensational bite every time you stick your fork into the bowl.
4. Cantaloupe and Cucumber Salad
This salad takes the combination of sweet citrus and savory seasonings to a whole new level. The ground coriander elevates the flavor profile well above your standard salad while the roasted pumpkin seeds add that bit of crunch that many salad eaters crave. Cantaloupes, like many other melons, contain a high water content that helps stave off dehydration and a single 200-gram serving will give you more than your daily recommended dose of vitamin C.
Food prep is always more fun when you love your kitchen. Our Bay Village apartments feature upgraded kitchen countertops with stainless steel sinks, dishwashers, and efficient appliances. Stop by soon so we can show you around!