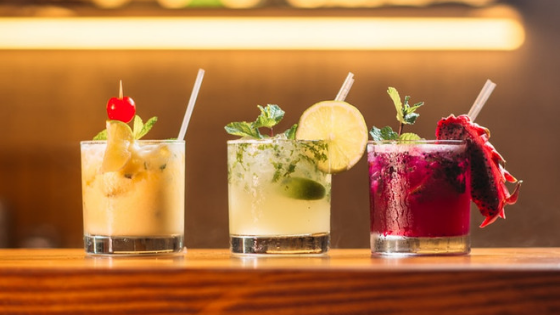 The arrival of summer has ushered in a time of picnics and pool parties. Refreshing drinks featuring the fresh fruits and flavors of the season are a staple at these gatherings. We wanted to pass along some fun (non-alcoholic) summer beverage ideas. Our Vallejo, CA apartments provide easy access to nearby grocery stores and farmers markets, so you can get all the ingredients you need to try these recipes out. Enjoy!
Grapefruit Lime Spritzer
California is known for its grapefruit, but you don't need fresh fruit to concoct this beverage. Use grapefruit Italian soda for the base, then add fresh-squeezed lime juice. Himalayan salt on the rim of the glass will make it more like a margarita.
Pink Watermelon Lemonade Slush
For many of us, this recipe conjures up memories of childhood, sipping lemonade after running through the sprinkler. A glass of this frosty watermelon and citrus mix will definitely hit the spot.
Berry and Pomegranate Mocktail
Pomegranate juice and strawberries give this refresher its eye-catching color. It's also very easy to throw together, so it may be your go-to when you're called upon to entertain at the last minute.
Pineapple Mint Agua Fresca
This one is incredibly easy to prepare. Just place pineapple chunks (or any fresh fruit you have on hand) and mint leaves in the blender with some water. If you don't like pulp, be sure to strain the mixture.
Strawberry Orange Mango Mocktail
Use kombucha instead of alcohol to give this "mocktail" that fermented taste reminiscent of a traditional cocktail. Top that off with a fresh mango, orange mango juice, and chopped strawberries.
Coconut rainbow spritzer
If you're looking for something colorful and tropical, this recipe won't disappoint. Not only is it tasty, but the combination of strawberries, blueberries, and pineapple contained within make this drink a decorative addition to your party table.
Sangria Mocktail
Enjoy a sip of summer with this great recipe. Combine white grape juice, blueberries, bananas, peaches, oranges, and orange juice to take advantage of the best fruit flavors the season has to offer.
Our Vallejo, CA apartments provide plenty of space—indoors and out—to enjoy your favorite summer fare. Contact us to learn more about floor plans and amenities.